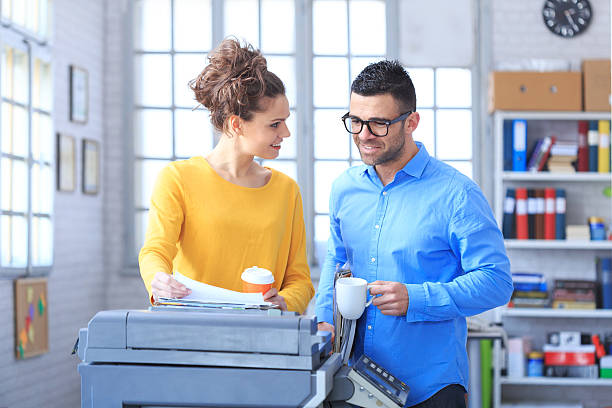 Copier Lease is the best plan option if you experience problems in the troubleshooting of your owned refurbished copying equipment. It can save you time, money and effort from availing the services of a technician just to repair the damaged machine. However, if you encounter some technical malfunctioning issues, you must be able to learn from them. In this article, you will find below the 5 ways for you to manage print services that promotes environmental responsibility:
1. Understanding the Environmental Impact
When you start to organize your copier business, determine first how much your organization truly has in terms of environmental effect. As you may have noticed, a lot of organizations have always thought that their green business practices are not making the environment worse, but not this is not the case. They are the main offenders because they do not bother to measure any of their carbon footprints.
2. Reducing of Energy Consumption
Energy is one of the areas that most companies always wasted. If you have multiple printers that you use and maintain in your department or offices, it is a sure thing that they waste a lot of energy.
Studies have revealed that there is an average of at least two or four employees in an office which have a printer. This is very energy consuming. Searching and using any of the managed print services could be your plan for eliminating those extra printers, and in that way, substantially reduce energy consumption.
3. Reducing of Wasted Paper
Another research showed that every office worker on average uses at least 10,000 sheets of copy paper every year. And 700 billion sheets of paper are usually being used in the United States alone every year. You have to avoid this and reduce the wasted paper especially since almost 40 percent of the collected garbage consists of cardboard and paper.
You can consider the following ways of reducing paper consumption:
• Using or printing of two-sided papers
• Digital memos and reports must be the practice
• Sharing of paper copies
• Proofing through electronically materials other than printouts.
4. Recycle
Making use of recycled paper is one that could initiate environmental responsibility. Using that used material is slightly inexpensive and yet environmentally friendly.
You really need to think about recycling those objects associated with printing materials such as the ink cartridges, its toner and your printer itself. Using the practice of trade-in and recovery services in your organization can help you to recycle and reduce waste.
5. Promote Paperless transactions
Paper documents are not cost-effective since it was shown that every year 15 percent of all paper are lost while 20 percent are misfiled. Now, by using paperless transactions and processes, you and your company will be able to avoid this wastage and become a more environmentally friendly and effective business.
Copier Leasing
It is your responsibility to look into the normal leasing agreements that are offered and used in rental plans. Copier leasing should not be a problem and the costs should not become a concern. The level of technical services offered should also be looked into.
Copier leasing must be the main practice of your company in order for your organizations to provide the people's demand continuing to promote environmentally friendly actions that protect the environment.
Copier Leasing Services
Availability of the services from copier leasing providers in the United States have been existing for over 20 years. The clear choice of technical services have made them renowned in offering services that are available in more than 60 locations in various states.
As one of the trusted brands, dealing in state-of-the-art document management systems and solutions for management software products are now available and are advanced.
In planning to invest in your office with a new equipment, here are the affordable, premium-class products that comes with warranty:
• Plotters
• Printers
• Photo Scanners
• Document scanners
• Barcode scanners
• Software programs
• Fax machines
• Copy machines
• Toner and other consumables
Copier Leasing In Tulsa
The copier leasing services have come with powerful machines that are very affordable at prices that are accompanied by the presence of excellent and prompt technical services. It's a company's assurance that your money will be worth investing in their products and services. More than that, you will have a chance to avail of the most premium-quality copiers without the annoying concern about the cost of the machines. Also, low prices for the copier leasing are available and are able to fit any of your budget size.
Copier Leasing Services Tulsa
If you are in Tulsa and you are looking for a Copier for your business, you may contact Clear Choice Technical Services in Tulsa. You can ask about Copier Leasing Services in Tulsa, Copier rental services in Tulsa, and Copier Repair Services in Tulsa.
Constant malfunction and losing money due to breakdown are usually one of the most frustrating things that usually happens to a busy office or business. However, all these problems are now a thing of the past since expert technicians are just one tap away to help you resolve your problems while spending less time and money. More importantly, the environment is benefited and protected.